How To Deal With Fleas In Your Charlotte Home
March 30, 2022
Fleas may seem like a simple annoyance, jumping from your carpet or couch, nibbling on your pets. But, fleas are much more than just a nuisance. These pests in your Charlotte home can bother far more than "man's best friend." It won't just be your pets that are impacted; fleas will also bite humans when given the chance. Fleas are parasites, feeding on the blood of a host, and they aren't picky whether that host is a human or an animal. Aruza Pest Control knows just how frustrating fleas can be, and is ready and able to rid your Charlotte home of them once and for all.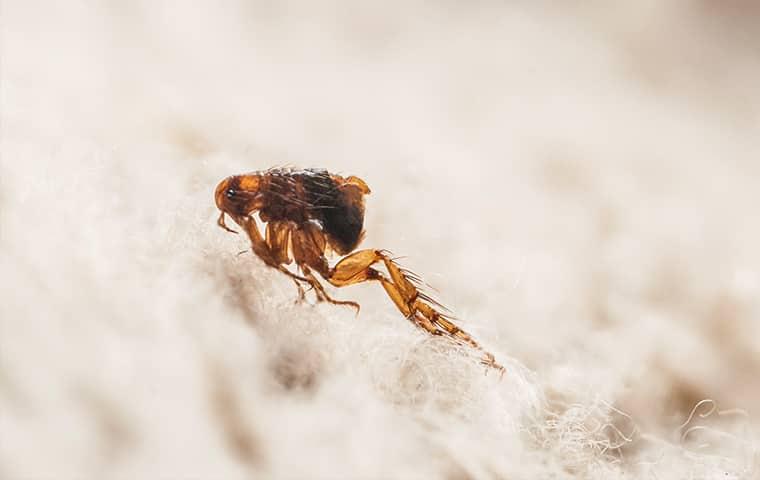 How To Tell If It's Fleas In Your Charlotte Home
Determining whether or not your pesky problem is fleas is often the first step in deciding where to turn. Typically your first true sign will be the bites fleas leave on the human inhabitants of your Charlotte home. Sometimes, pet owners will notice their dog or cat more actively scratching than normal. But often, it will be the people in the home that see the bites more clearly.
Fleas are known to bite at your feet, ankles, and legs. The bites often leave a small, red dot behind, which is typically itchy. Similar dot-like bite marks may also be found on your pets. You can also see a flea with the naked eye, and may witness them jumping from drapes or carpet, in addition to soft furniture.
The Dangers Fleas Bring To Charlotte Homes
Annoying bites are not the only dangers of the common flea in your Charlotte home. Fleas are known to carry disease. Most historically, it was the flea that was responsible for spreading the bubonic plague in times of lower hygiene and sanitation. Other diseases such as murine typhus, tungiasis, tularemia, bartonellosis, and tapeworm can also be carried from fleas to humans and animals. The infestation of fleas in your Charlotte home is nothing to take lightly. We at Aruza Pest Control know how dangerous fleas can truly be.
Why Fleas Come Into Charlotte Homes
Fleas often enter your Charlotte home via pets, especially if your four-legged friends spend time outdoors. Fleas can also be carried in on less invited critters, such as squirrels or mice, which may also be a pest in your home. Fleas can be carried in on old furniture or soft luggage brought into the home, or even carried in on people. They will come into your home for the same reasons other pests in Charlotte will try to: for food.
How To Get Rid Of Fleas & Keep Them Out In Charlotte
Getting rid of these dangerous and annoying pests is best left to the professionals. Aruza Pest Control has the experience and know-how to help rid your Charlotte home of fleas. We have tried and true methods which begin with an inspection of your home.
From there, our experts will create a comprehensive treatment plan and continue with routine follow-ups to be sure your Charlotte home is free from fleas for good.
With the ease of one phone call, we can tend to your pest control needs and eliminate fleas from your Charlotte home. There is no need to delay. Don't put up with flea bites. They are frustrating and dangerous, not just to the home's humans, but also to your cats and dogs. We are standing by at Aruza Pest Control, ready to help you ease the itch and lessen your exposure to disease. Call us today to find out more about our flea control services.