Let's Chat About Carpenter Ants In Charlotte
November 5, 2022
Carpenter ants in Charlotte are something that every property owner should be aware of due to the severe damage that an infestation of this pest can cause. Charlotte pest control can help you understand how to get rid of carpenter ants and prevent this pest before an invasion gets out of control.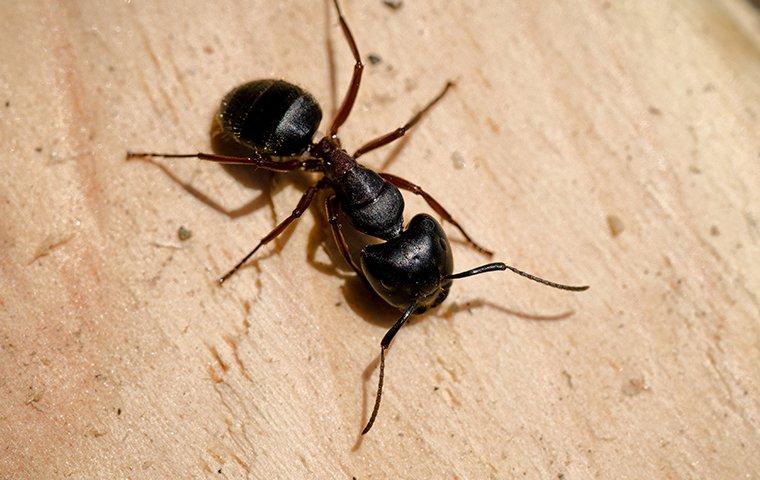 Where Are Typical Carpenter Ant Nesting Sites?
While carpenter ants in your house may sometimes chew through dry or undamaged wood, this pest prefers to make their nests in damaged wood, moist wood, or wood that has hosted insects. Typical carpenter ant nesting sites include the decaying or moist wood around windows, sinks and bath traps, door frames, chimneys, and hollow spaces such as wall voids.
Once a colony of carpenter ants moves into these areas, they will constantly chew, worsening the damage and leading to hollowed-out wood at risk of breaking away or collapsing. Professional carpenter ant treatment is the best way to deal with these issues.
Is It Possible To Hear Carpenter Ants Chewing A Wall?
Carpenter ants make noises when they move around walls or chew to make a nest in your walls. You may hear a soft rustling or clicking sound coming from the walls of your property, especially at nighttime when things are quieter and the carpenter ants are active.
Other signs of carpenter ants in your house include:
Visible damage you see to wood or wood that breaks away easily.
Carpenter ants discard piles of wood shavings (officially called frass) as they chew around baseboards, windowsills, or other wooden areas.
Sightings of carpenter ants, both with and without wings, around your property's interior or exterior areas.
Shed swarmer wings found around the outside or inside of your property.
Seeing any of these signs around your property and hearing chewing noises from your walls means that it is time to contact Aruza Pest Control and get rid of carpenter ants before they cause even more issues.
What Not To Do About Carpenter Ant Damage
When you see carpenter ant damage around your property, which can be galleries carved into wooden areas, wood that breaks away easily or appears water-logged, holes in walls or wooden areas, or piles of frass, call the professionals at Aruza Pest Control.
What you shouldn't do about carpenter ant damage is ignore it, try to repair or treat the damage without removing the underlying infestation, or attempt to treat a carpenter ant problem yourself. These items can lead to further damage down the line as carpenter ants will continue chewing through repaired wood.
Treating infestations yourself is also less than adequate, as it takes professional equipment and know-how to remove every trace of this pest from the many areas they may hide in around your property. Ignoring carpenter ant damage is a sure way to end up with hollowed-out wood that eventually collapses.
Carpenter Ant Extermination In Charlotte
For carpenter ant extermination in Charlotte that you can count on it; look no further than Aruza Pest Control. Our team will work with you to carefully remove any carpenter ant infestation you are struggling with and safely eliminate this pest from your property. With our help, you can be sure that we will remove all traces of carpenter ants and the damage that this pest causes and stop them for good.
Contact us today at Aruza Pest Control to get started.