Let's Talk About Termites During Charlotte's Winters
December 30, 2022
Winter is the time of the year when things are supposed to slow down. Most of us want to cocoon in our home, enjoy hot cocoa, and relish a slower-paced season after the busy summer activities of hiking, vacations, and trips to the local pool. We are not the only ones who slow down during cold temperatures, some pests slow down for the winter and go into a state of dormancy or hibernate, but others do not. Termites are one pest that does not stop working — even through the winter months.
If you suspect termites are in your house, slowly eating away the wood in your home, now is the time to get your local Charlotte pest control team from Aruza Pest Control to help. Winter is not a time to let your guard down; instead, this is the time of the year to fight against insects causing structural and financial damage to your Charlotte house. Our service managers are ready to help you win the war against termites.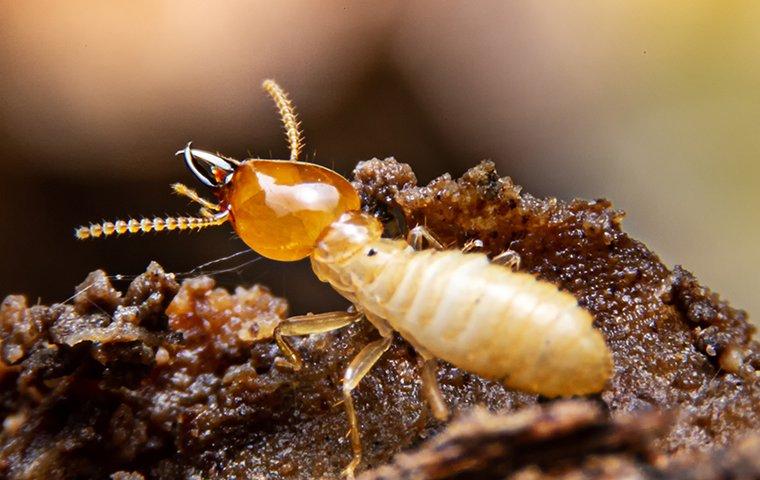 How To Spot Signs Of Termite Damage
Termites in Charlotte are not nocturnal like many pests; they work 24 hours a day, seven days a week. Termites primarily work underneath your feet in the crawlspace or above your head in the attic, which means you don't see them. However, if you look around, you will notice these signs of termites; holes in window and door frames with sawdust-like debris nearby, mud tubes on the side of the foundation, discarded wings in window sills or near doorways, and mounds of frass (fecal matter).
In addition to these indicators, look for the following evidence of termite damage:
Sagging floors
Warping windows and doors
Hollow-sounding wood
Crunchy-sounding floors
Blistering paint or wallpaper
Discolored or darkened wood
These signs of termites inside your house show a long-term presence and the likelihood of large, numerous colonies of termites.
How Termites Can Slowly And Silently Destroy Your Home
Signs of termite damage indicate that you are possibly facing considerable repair costs. Slumping floors or crunching sounds reveal collapsing floor beams, joists, or subflooring; repairing these structural items requires a subcontractor. Damage caused by drywood termites in the attic will demand professional help to replace trusses and support beams. Other costly repairs may involve replacing or repairing door and window frames, wood porch supports, and railings. Unfortunately, most homeowner insurance policies do not cover termite damage, so all the repair bill costs come from your pocket.
Natural Termite Prevention Tips To Try This Winter
We understand that homeowners do not have access to specialized termite treatments and equipment, but that does not mean you cannot take steps to deter a termite infestation in your Charlotte home.
These are ways to combat termites this winter:
Remove rotting wood from the yard
Dehumidify the crawlspace and attic
Store firewood at least 20 feet from the structure
Divert water away from the home's foundation
Seal cracks in the foundation and gaps between the foundation and incoming wiring and pipes
Unless you get rid of adult termites on your property, the damage will only worsen and become more extensive.
Professional Termite Control For Charlotte Homeowners
Aruza Pest Control is the Charlotte termite treatment specialist for your property. We will inspect your property to determine if you have an active infestation and what termite species is invading your house. If termites are present, we create a barrier around your home using a product undetectable by termites. When termites come into contact with the Termidor® product, they take it to their colony, where it kills the members. Remember, even though it is winter, termites are still actively eating away. Contact us today to request your free quote and to learn more about our residential and commercial pest control services in Charlotte.