The Dangers Of Fleas In Your Charlotte Home
February 26, 2021
Scratching pets? Mysterious dark pellets? Itchy lumps all over your skin? There's no mystery about the type of pest lingering in your home this spring.
Fleas are some of the most primitive and widely spread pests in the Charlotte area. They are very difficult to see with the naked eye, but these bugs are more than visible through the things they leave behind. Itchy pets with black pellets of flea dirt are often the most common signs.
Since fleas are such a common pest problem, many Charlotte homeowners don't think that they are a big deal. Unfortunately, fleas pose dangers to both pets and people in a number of ways:
Fleas are thought to be widely responsible for the spread of diseases such as the Bubonic plague.

Secondary infections can form from scratching at bites.

Alopecia may form on humans and animals after continuous flea activity.
It should be mentioned that even homes without pets can get fleas. If preventive measures are not already in place, unprotected homes could be asking for trouble.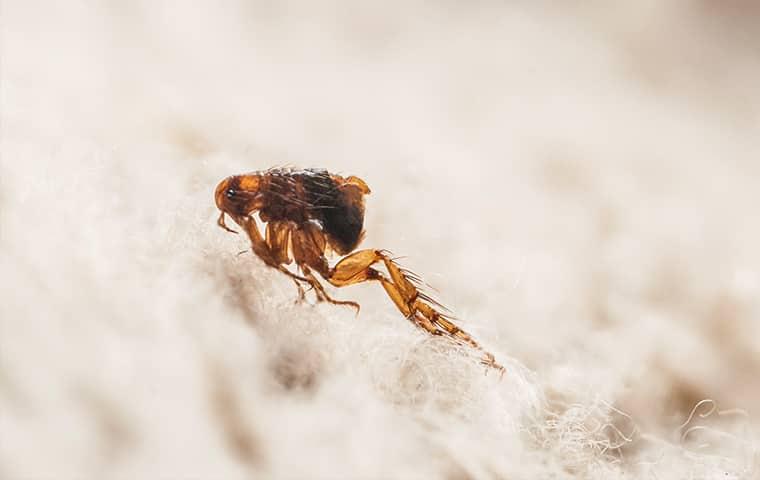 Charlotte Homeowner's Guide To Flea Prevention
Fleas are prevalent pests that are easy to miss but difficult to ignore, especially for your poor pet. If an animal menagerie is allowed to be both inside and outdoors, flea activity may soon spread to you and your human family as well.
Combat the acquisition and spread of filthy fleas by implementing some of the prevention ideas below:
Vacuum and sweep your floors regularly, removing as much dust and debris as possible.

Wash your pets on a regular basis, and apply correct doses of flea prevention materials on a scheduled time frame. Flea treatments for pets are available in both oral and topical forms.

Manage yard debris by trimming grass, cutting overhead branches, and mitigating overgrown patches from cropping up near the home.
It is important to remember that flea prevention is not the same as flea treatment. Once these pests are in your home, they will be there to stay. Still concerned that fleas could be making a comeback in your home? Aruza Pest Control offers free, no-obligation home inspections that identify potential pest concerns in a flash.
Fight Fleas Without Lifting A Finger: Call Aruza Pest Control
Flea protection is ultimately a multi-step process that involves many aspects of your life and social network. After applying preventive measures to your home and maintaining the health of your pet, you will need to turn to the assistance of a trusted pest professional.
Once you have spoken to your veterinarian about the treatments and products that are right for your pet, don't hesitate to reach out to your partners at Aruza Pest Control right away. With 20 years of combined experience under our belts, our crew understands the dangers of continuous flea activity, as well as the right way to get them out. We supply a unique combination of cultural control, product application, and helpful education that keep fleas out of your Charlotte home for good.
Speak with one of our flea elimination experts now by calling the Charlotte office of Aruza Pest Control today. We are committed to serving you in the best way possible, no matter if you are calling over the phone, emailing us through a contact form, or visiting with us in person during a complimentary home inspection. It may be tempting to treat fleas and their eggs on your own, but at the end of the day, professional pest control efforts will always be the safest, cleanest, and most efficient use of your time. Let the pros handle it, with flea protection services that can't be beat!