Three Signs Your Charlotte Property May Have A Carpenter Ant Problem
February 19, 2021
If you had a pest eating at the walls of your home, you would know. Right? Well, maybe not.
Carpenter ants are sneaky pests thanks to their quiet natures and small sizes. Unlike termites, these pests do not eat wood, but instead bore into it for the purposes of housing their colony.
If you do have carpenter ants inside your home, chances are they will be difficult to detect.
Here are three signs of carpenter ant activity in your home:
Piles of wood shavings building up around the house.

Winged insects (or alates) flying about the property.

Soft clicking or rustling noises coming from the walls.
If your carpenter ant presence is not addressed quickly, significant damages may occur.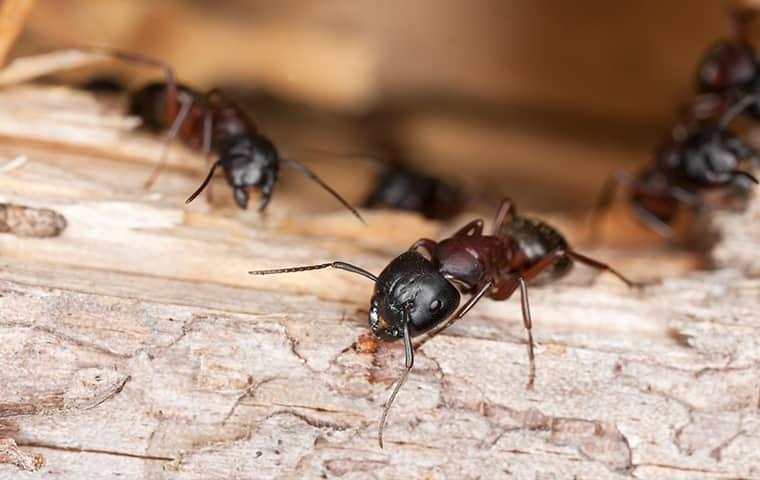 How Carpenter Ants Enter Homes, Businesses, And Properties
We'll start with a pinch of good news first: pests cannot spontaneously generate inside your home, nor can they enter inside without a proper entry point made available to them. This means that there is always a way to track down carpenter ant activity before it develops into an infestation.
If you have noticed these insects creeping into your Charlotte property, there may be a number of reasons why. Here are a few below:
Rips in window or door screens.

Cracks along the building's walls, ceilings, or foundations.

Doors and windows that do not fully meet the floor or surface.
Thankfully, there are some steps to take right now that help to prevent carpenter ants from coming too close for comfort:
Replace door and window screens if tears are spotted. Do not try to patch these on your own.

Use waterproof caulking to seal up cracks or crevices forming around the building. If the damage would be too difficult to repair on your own, enlist the help of a reputable local handyman.

Keep all food items sealed up properly and locked away. Sweep, vacuum, and mop regularly to keep ants from sniffing out a new meal.
Like it or not, there may already be a carpenter ant infestation lurking behind your walls. Need to know for sure? Schedule a complimentary inspection from Aruza Pest Control to get the ball rolling right away.
Don't Give Ants A Chance. Get Aruza Pest Control!
A wise man once said, "Wisdom is doing in the beginning what you knew would be there in the end." Using the above prevention techniques against carpenter ants is a wise decision indeed, and will often prevent a great amount of pain and suffering from coming to fruition. Yet, DIY methods and home remedies can only do so much on the brink of an infestation. If your home or property is in the beginning stages of a carpenter ant infestation, the time to act alone is long gone.
Instead of taking on these perilous pests yourself, do the wise thing by contacting Aruza Pest Control at the first sign of carpenter ant damage. With over 20 years of combined experience, the team at Aruza Pest Control is dedicated to keeping you and your family pest-free every single day. Inspection, treatment, and follow up services work hand-in-hand to deliver the results you need to get back on your feet. Carpenter ant infestations can be tough to handle, but we're even tougher — guaranteed.
Don't let ants get the best of you this spring. Call Aruza Pest Control and set up an initial appointment for ant mitigation right away. We will be happy to answer any and all questions you may have about what we do, how we do it, and the ways we can best serve you. Quality services and affordable treatments are only a single click away!