Why Are There Carpenter Ants On My Charlotte Property?
September 3, 2021
Carpenter ants have a two-segment body that is large and often measures between ¼ to 3/8 of an inch long with six legs. They are most commonly black; however, they might also appear in shades of brown, red, or yellow. Carpenter ants are social creatures that work together using their pincers (mandibles) to burrow through wood and create nests.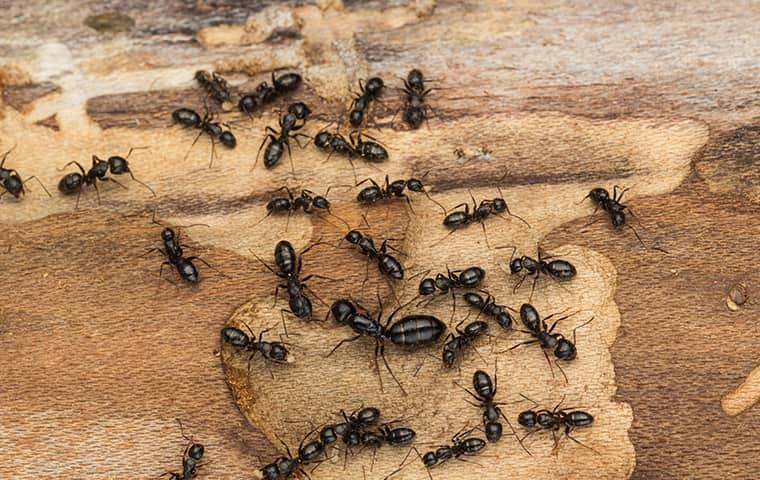 What Types Of Conditions Attract Carpenter Ants?
In nature, carpenter ants consume honeydew and insects but if they travel indoors they are most attracted to sugary foods, fruits, and meats. Wood that has been water damaged is the most likely to be invaded, such as from leaking pipes or spigots. Carpenter ants commonly are drawn to bowls of uneaten pet food or trash cans containing food scraps.
The Damage Caused By Carpenter Ants
Carpenter ants may damage wood used in floorboards, baseboards, and furniture that will slowly be eroded and lose structural integrity. In some cases, doors and windows will become difficult to open or close as a result of shifts in walls or floors. Carpenter ants are unlikely to bite and are typically considered as more of a nuisance and potential risk to the property.
Tips For Preventing Them
We've put together a few suggestions to help keep carpenter ants from getting into your home or business to begin with:
Inspect the exterior of the property near the foundation for any cracks or gaps that might allow entry and fill them with caulk or sealant.

Remove tree stumps and dead branches from the property's exterior and move firewood storage piles away from the structure.

Regularly clean gutters and downspouts so that rainwater is routed away from the property.

Trash cans containing food scraps should have tightly fitting lids.
Benefits Of Consulting With A Professional Pest Controller
Far too many property owners try do-it-yourself home treatment options that are sold online and in local stores featuring overhyped marketing that convinces potential buyers that these items represent a quick and simple solution. In reality, most of these sprays, traps, and other mass-marketed products will deliver very mediocre and only short-term results. In the meanwhile, infestations of carpenter ants and other pests often expand into other adjacent areas of the property making it more difficult to fully eliminate them.

The best way to respond when discovering a pest-related problem is to consult with an experienced pest control professional.
Leading Provider Of Pest Control Services In Charlotte
Aruza Pest Control is a locally owned and operated team of professionals that has been providing services for residential and commercial customers in Charlotte for more than 20 years now. The organization strives to deliver the highest-quality customer service in the industry, which has resulted in achieving an A+ rating with the Better Business Bureau (BBB). Another key factor in our lasting success is that we stand behind the quality of our work with the Aruza Guarantee that ensures total customer satisfaction.

In addition to ants, our experts safely and effectively eliminate problems with cockroaches, stinging insects, rodents, and many other troublesome and potentially dangerous creatures. We encourage you to contact our office today to schedule an onsite evaluation.