Mosquitoes Are More Than An Annoyance In Charlotte, NC
Mosquitoes are a common problem in Charlotte and throughout the Southeast. They thrive in our hot, humid climate and are a serious annoyance when you try to spend time in your backyard; however, they cause more problems than peppering you with itchy bites. Mosquitoes are dangerous, causing more deaths worldwide each year than any other animal. In the US, they're responsible for transmitting West Nile virus, Zika virus, and Eastern equine encephalitis, to name just a few.
If you have an abundance of mosquitoes on your property, it's time for mosquito reduction from Aruza Pest Control. Our team of certified pest control professionals is committed to the success of our customers, and we will always go above and beyond simply helping to eliminate pest problems from your home—partner with Aruza today for an ethical and effective pest control experience.
Our Mosquito Control Process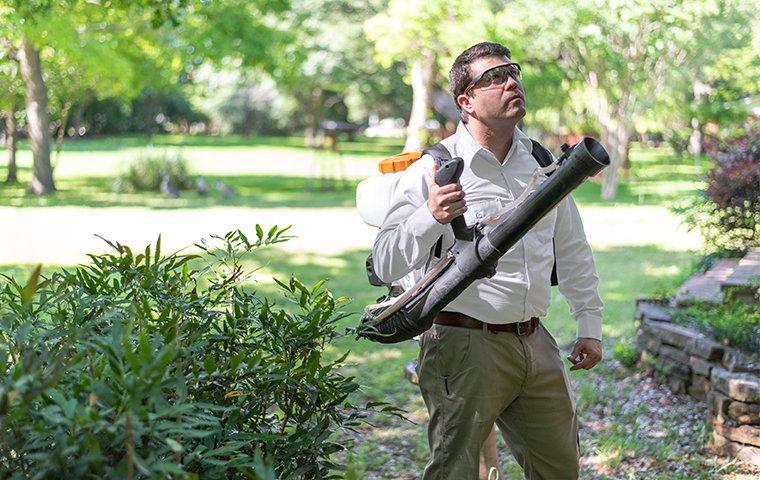 Our mosquito reduction service is recurring every 21 days between March and November, when mosquitoes are most prevalent. If mosquitoes continue to be a problem between monthly visits, we will re-service as necessary.
Inspection
We begin with an inspection to identify breeding grounds and areas of standing water. This inspection allows us to determine where treatment is necessary.
Treatment
Our treatment consists of two parts. First, we eliminate as many of the breeding grounds and areas of standing water as we can. The water that we can't remove, we treat with a granular product that stops their eggs from hatching.
The second part is a full yard spray and treatment to all areas of vegetation. This treatment quickly knocks down all mosquitoes resting in these areas and has a residual effect that continues working effectively until the next service.
Enjoy Your Yard Again
If you have mosquitoes on your property, it's likely that in the evening, you find the outdoors unbearable. Instead of hiding inside your home, take back control of your yard with mosquito reduction services from Aruza Pest Control. We will significantly reduce the number of mosquitoes on your property, allowing you to enjoy your backyard again safely.
Through our three core values of teamwork, integrity, and growth, the team here at Aruza gives back to the communities we service by educating our customers. We provide information on our services and knowledge to help you prevent mosquitoes and other pests from returning to invade your property. Get started with mosquito reduction services by reaching out to Aruza Pest Control today!
Request Your Free Quote
Complete the form below to request your free quote.