What are termites?
Termites are wood-destroying insects and a pest that no home or business owners want to discover inside of their structure. These insects feed on cellulose found in wood and other plant and organic matter. Termites nesting or foraging for food on your property can silently enter your structure, where they will work for months or years without notice.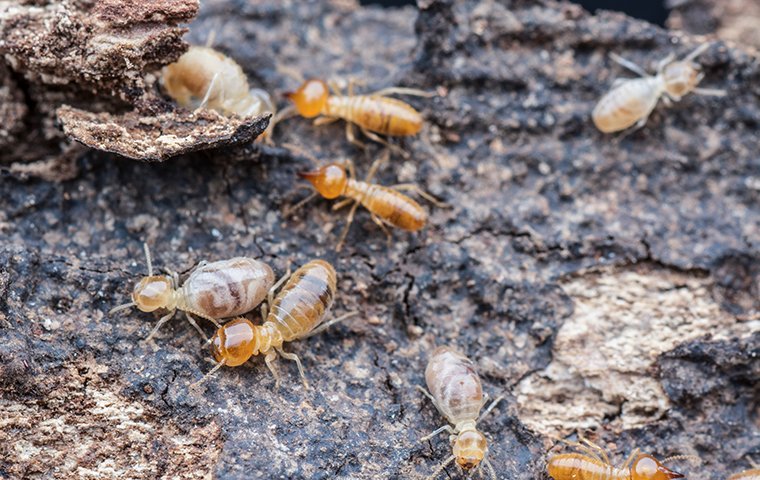 Termites work year-round, night and day, to feed their massive colonies. They cause costly damage to residential and commercial properties. Termites cost homeowners over five billion dollars in losses across the country each year. Aruza Pest Control offers comprehensive termite protection services to prevent costly structural damage in any home or business.
Are termites dangerous?
Termites are dangerous to structures, and a termite infestation left untreated may create enough damage to affect the structural integrity of a home or other building. Repairing termite damage is costly and time-consuming, mainly because most homeowners insurance does not cover the costs.
Why do I have a termite problem?
Termites often live outside near homes and other structures. The workers leave their underground nests each day to forage for food, traveling through the soil or mud tubes they create. As they are searching for food, they sometimes find their way indoors through cracks in the foundation or pieces of wood that are making direct contact with the soil. Inside buildings, termites gravitate to water-damaged structural wood or wood located around pipes.
Where will I find termites?
Inside homes and other structures, termites feed on structural wood behind walls, under floors, and above ceilings. They work out of sight, making it hard to discover an infestation early on; more often than not, they've done the damage before you even know they're there.
How do I get rid of termites?
If you are looking for pest control in the Folly Beach, SC area, turn to the local and experienced pest professionals at Aruza Pest Control. We offer home and business owners the benefits of comprehensive pest control, superior customer service, and the peace of mind that comes with our guaranteed services. Our eco-friendly solutions solve current pest problems and keep them from returning. For home and business owners who want to protect their property from termites, contact Aruza Pest Control today!
How can I prevent termites in the future?
In addition to our home pest control and commercial pest control services, use the following tips to prevent termites on your property:
Replace mulch with crushed rock, rubber mulch, or other non-organic options.

Ventilate crawlspaces and use dehumidifiers to keep basements dry.

Repair roof damage and keep gutters free of debris.

Limit soil to wood contact around your home and on your property.

Fix leaky pipes, faucets, or fixtures inside and outside your home.

Remove fallen trees, tree stumps, old fences, and old wood piles from your property.
Request Your Free Quote
Complete the form below to request your free quote.